In the best sense of the word, Ride With Pride is a partnership: law enforcement, schools, and generous community sponsors coming together to encourage safe behaviors and acknowledge our kids who are making positive choices. Students who adhere to the pledge they sign at the beginning of the school year become eligible for a host of prizes, including a car. These prizes would not be possible without our sponsors, so a big thank you to them:
Coalition Sponsors:
Community Foundation- Muskegon County
Car Donors:
It was a very easy decision to partner with Ride with Pride. With my background, it was all about providing an opportunity for law enforcement to be proactive in their dealings with youth. This is a great way to support our youth and invest in our community's future.
-David Ramos, Ramos Auto Body & Towing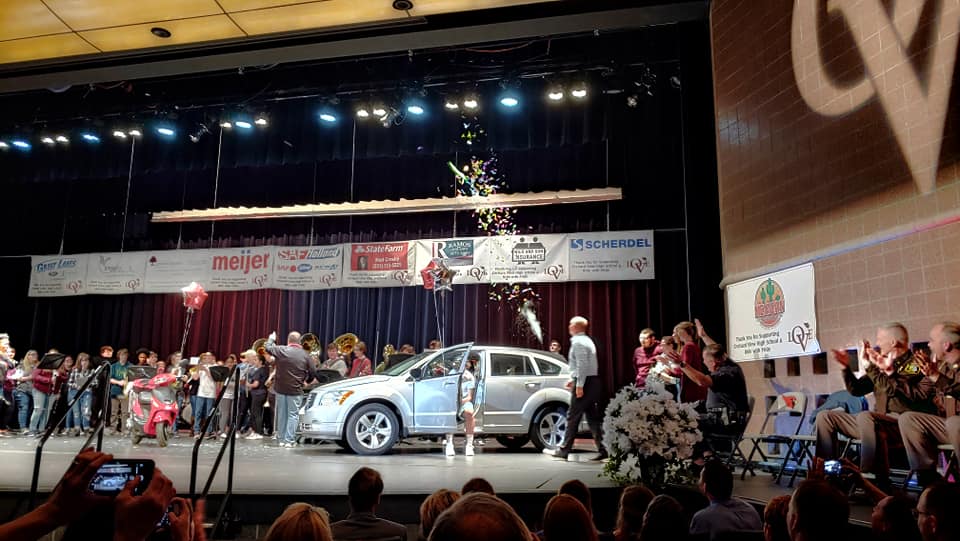 Ride With Pride was first implemented in 2012 as a collaborative effort between Mona Shores High School, Norton Shores Police Department, Muskegon Alcohol Liability Initiative, and Ramos and Sons Auto Body. The goal of the program was to provide an opportunity for law enforcement and schools to come together and build a program promoting safe and positive choices. Ramos and Sons opened the doors by generously donating a car in that first year, something they have done every year since then.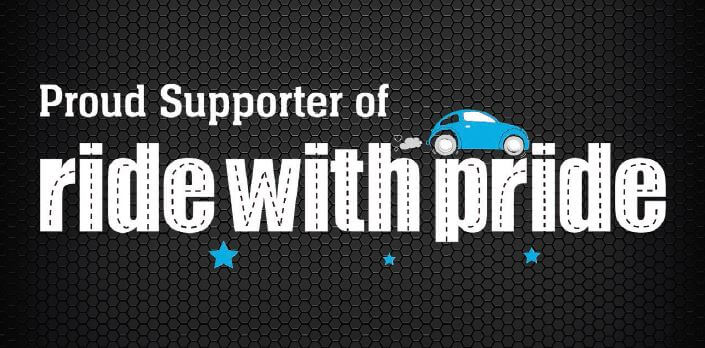 The launch of Ride With Pride ended up coinciding with Mona Shores' introduction of  Positive Behavior Interventions and Supports strategies. The two programs had the common goal of encouraging and rewarding good behavior, so PBIS strategies and expectations were incorporated into the Ride With Pride pledge.
The results were immediate and impressive. With the implementation of Ride With Pride and PBIS, Mona Shores High School saw a 50% decrease in Drug and Alcohol incidents as well as a strong decrease in disciplinary action.
We have seen a drastic decrease in discipline referrals as well as a reduction in drug and alcohol incidents. Ride with Pride provides our students with community support to make positive choices that will directly affect them today and in the future.   Through positive reinforcement of the Ride With Pride pledge, our students are given a road map to success.
-Principal Jennifer Bustard, Mona Shores High School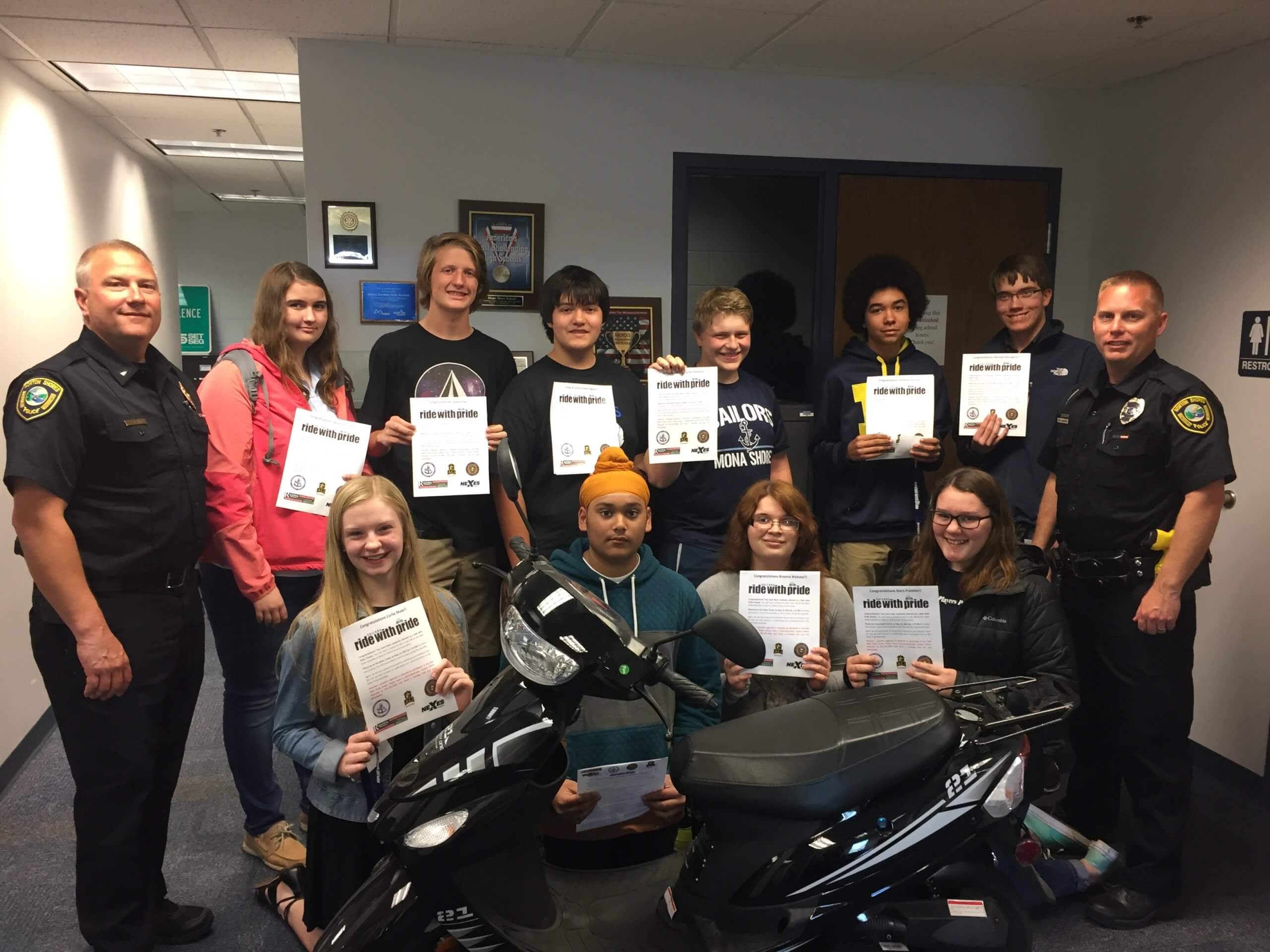 Ride With Pride's success story at Mona Shores was shared with area schools, and interest grew rapidly. The following school districts have all adopted the Ride With Pride program, and the sponsors continue to help write these success stories across the county:
Mona Shores School District with the Norton Shores Police Department
Orchard View High School with the Muskegon Township Police Department
Fruitport High School with the Fruitport Police Department
Western Michigan Christian with the Norton Shores Police Department
Holton High School with the Muskegon County Sheriff's Department
North Muskegon High School with the North Muskegon Police Department
Oakridge High School with the Muskegon County Sheriff's Department
Montague High School with the Montague Police and Muskegon Sheriff Depts.
Reeths-Puffer High School with the Muskegon Township Police Department
Last year was our first year participating in Ride With Pride. The students and staff had a lot of fun with program and especially the assembly where we gave the car away. The excitement in the gym was palpable when the moment came for the students to see who had the key that would start the car. Additionally, the owners of Fremont Ford, who donated the car, had such a great time at the assembly that they offered to sponsor us again before they even left the school. It was a fantastic event. I think our participation in the program encourages students to do their best, but it also shows the students how much we appreciate it when they come to school and work to be positive members of our school community. 
-Principal Luke Tyers, Holton High School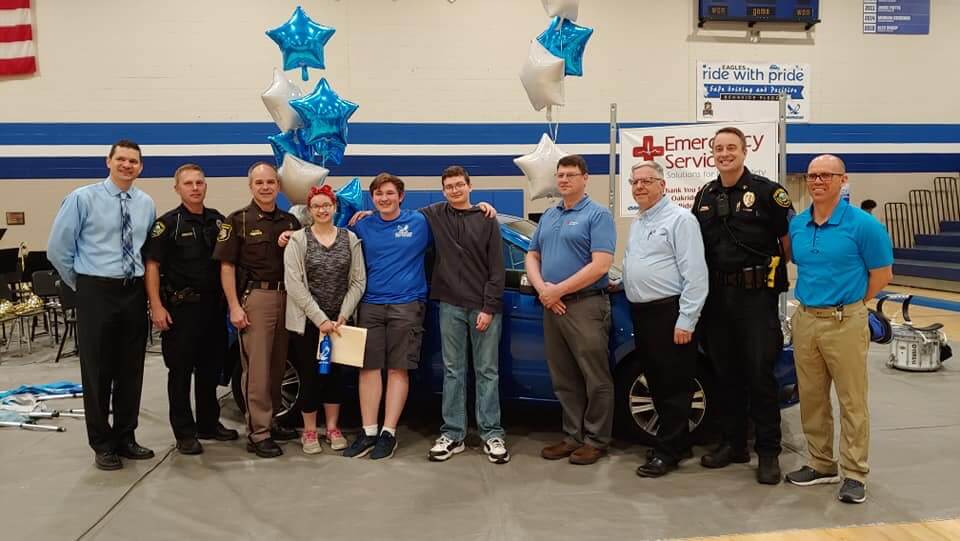 While the program originally centered on grades 9-12, interest and opportunity arose to expand. Many of the districts have implemented Ride With Pride in their middle and elementary schools, and community sponsors continue to make the program flourish with age-appropriate prizes like bicycles, skateboards, kayaks and more.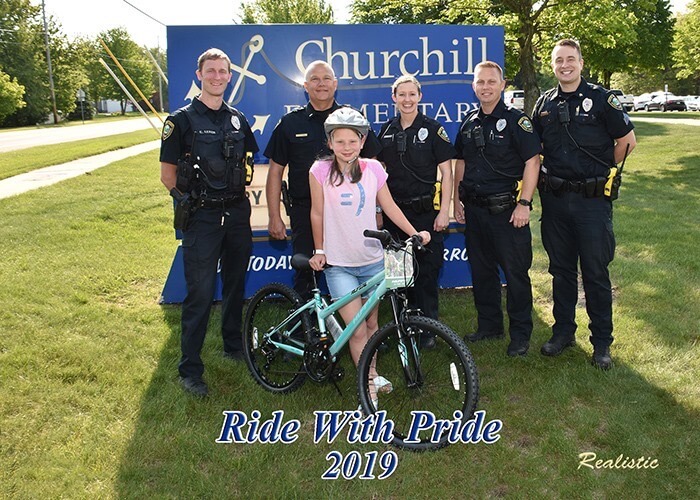 Each school district designs and implements their pledge to align with behavior expectations – many of them choosing to align with PBIS initiatives. Pledges often include safe driving habits, abstaining from alcohol and drugs, having no negative contacts with law enforcement, and staying positive with social media.
At the end of the school year The Ride With Pride Assembly happens in each district, and the efforts of everyone (most of all the kids) are recognized and celebrated. If Ride With Pride is happening in your school community, consider joining the effort as a sponsor. If you want to see Ride With Pride come to your school, we would love to start the conversation here. (link). When communities come together to celebrate kids, everyone wins and everyone is able to Ride With Pride.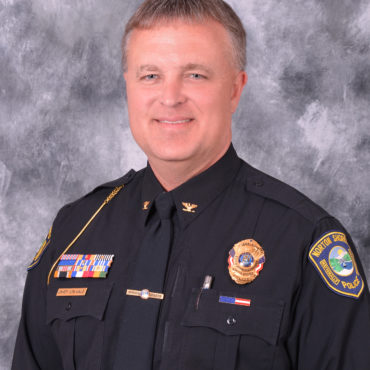 Chief Jon Gale
Chair
Chief Jon Gale has been a long time member of the Coalition for a Drug Free Muskegon. As the creator of Ride with Pride, Chief Gale continues to oversee the programs expansion to new school districts.
Want to get involved? We want to hear from you!